Whitney Houston Is Laid to Rest
BY ISLEY KASICA AND DANIELLE ANDERSON (People.com)
Sunday February 19, 2012 01:15 PM EST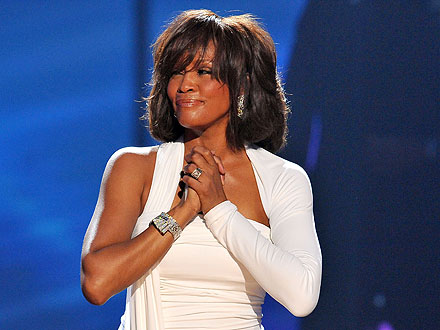 Fans lined the streets around the entrance to Fairview Cemetery in Westfield, N.J. Sunday, throwing rose petals and screaming ?We love you Whitney!? as the gold hearse carrying the singer's body arrived to bring her to her final resting place. 
The burial was a much smaller gathering than yesterday?s star-studded memorial. Escorted by police motorcycles, the processional following the hearse included three gold limos, a large black SUV, three black limos and about five cars. 
Houston was laid to rest alongside her father, John Russell Houston, who died in 2003. 
The singer passed away on Feb. 11 at age 48. Her official cause of death has yet to be announced. 
Molly Sims Shares

Baby Bump at Five Months

Monday February 20, 2012 04:00 PM EST
The model, 38 –
who 

a

nnounced last mont

h

 she's expecting with 

new hubby

 Scott Stuber – is in shock that she's already five months along. 
"It's hard for even me to believe," she wrote Monday on MollySims.com, accompanied by a link to her recently updated Bump Watch album with a photo of her growing tummy. Sims was just in New York for Fall 2012 Mercedes-Benz Fashion Week and attended the Diane Von Furstenberg. 
Adds the Project Accessoryhost, "the baby just started kicking and at this point it's only a matter of weeks until life as I know it is going to completely change – and I can't wait!"
– Dahvi Shira (People.come)
Pro Skier Elyse Saugstad: How I Survived Deadly Avalanche
BY DAHVI SHIRA (People.com)
Monday February 20, 2012 03:00 PM EST
Elyse Saugstad credits a special inflatable backpack for surviving an avalanche over the weekend that killed three men in her group of professional skiers.
Saugstad, the 2008 Freeride World Champ, tells the Associated Press that she "was completely buried except for my head and hands" on Sunday near Stevens Pass, a popular skiing destination in the Cascades in Washington State. 
The pro says she was aided by the inflation of her ABS Avalanche Airbag Backpack" that helps prevents skiers from being buried by snow.
"All of the people in the party were properly equipped and experienced backcountry travelers," she writes on her blog. "My thoughts and prayers are with those [who] lost their lives today." 
The three men were killed just one month after the death of Winter X-Games skiing star Sarah Burke, who died during a training run.